In Part 1 and Part 2, we have covered wood and glass used in many attractive buildings, both old and new, in Omotesando.  In this part, we are going to focus on concrete.
Concrete is a commonly used building material, and over the years architects have been challenging and developing its potential.  I would like to share some stories and historical background of each building, focusing on concrete.  
Concrete is made by a chemical reaction between water and cement.  It was first invented to make durable flowerpots by using cement and reinforcing steel.  Concrete is strong, but it is very delicate before it is solidified and requires proper temperature and dryness control.  
"Concrete" as building material usually indicates reinforced concrete (RC).  In this part, however, I will simply use the term "concrete" as material in general.
Let's start from Meiji Jingu Shrine as usual and find interesting buildings. 
Over the decades, Omotesando has been transforming and developing.  And there are three major milestones that caused drastic changes in this area.
The first milestone was the construction of the Meiji Jingu Shrine in 1920. 
The second one was the first Olympic Games in Tokyo in 1964, after going through the occupational period. 
And the third one was the second Olympic Games we had in 2021.
"Concrete" embodies the era
Adjacent to Meiji Jingu Shrine, the Yoyogi National Stadium designed by Kenzo Tange has an overwhelming aura.   
Japan had experienced rapid economic growth during the Showa era (1926- 1989).  There were many construction sites and the sound of piling echoing everywhere.
When I was an elementary school student, wooden school buildings were rebuilt into reinforced concrete structures. The first Olympic Games in Tokyo were held during this period. Indeed, I eye-witnessed this very period.  
This is the world's first large-scale suspension structure with two curved cables.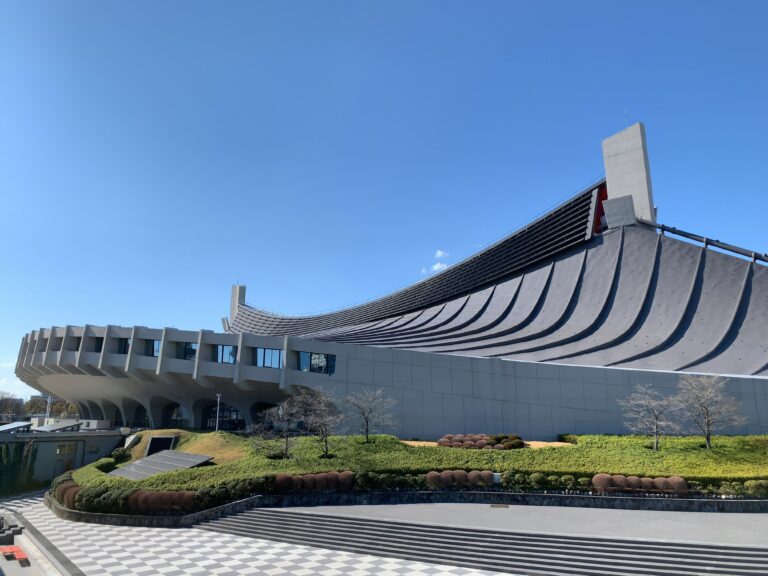 The city axis, which consists of the flow of people from both Shibuya and Harajuku stations, and the influence of the Meiji Jingu Shrine, was carefully considered.
There are a number of episodes to two unique modelings of "Tomoe " shape; the 1st Gymnasium and spiral shape;2nd Gymnasium, undulating concrete walls, and hydraulic dampers in this gymnasium.
 A number of challenges were made in collaboration with a structural engineer Yoshikatsu Tsuboi. This legacy building was recently designated as an Important Cultural Property of Japan.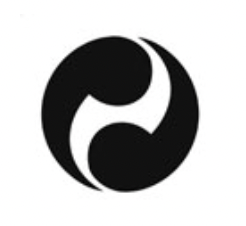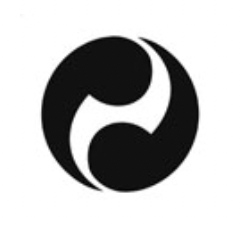 During the rapid economic growth in Japan, this gymnasium was completed only in 18 months.
The total amount of concrete used for the Yoyogi 1st Gymnasium alone was 30,000 ㎥.
Casting 30,000㎥ of concrete must require approximately 10,000 concrete mixer trucks.  Considering their transportation time and traffic condition, on-site concrete plant was built exclusively for this construction. This building is full of extraordinary episodes.
Around this time, Tange was competing with an American architect E. Saarinen.  Saarinen designed the famous hockey rink with a concrete suspension structure in Yale University in 1958.  In my opinion, Tange's Yoyogi National gymnasium can be classified as a different level for its scale and structure.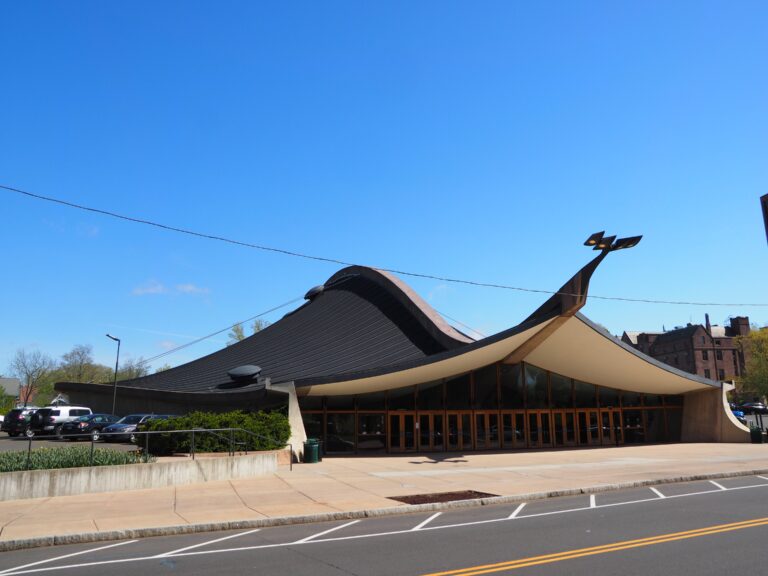 The technology used for the suspension structure, the profound appearance reminiscent of some ancient temple, and the majestic interior.  They are all wonderful.  And even the big air conditioning nozzles inside the building look cool.
Following the Hiroshima Peace Center (Hiroshima Peace Memorial Museum) in 1955 and the Kagawa Prefectural Government building in 1958, Tange successfully responded to the demands of the time.  It can be said that this building embodies the Showa era.  He then proceeded to work on the Osaka World Expo in 1970. 
Tange also completed a series of masterpieces in the same year, which is the Cathedral of St. Mary of Tokyo Cathedral. It uses HP (Hyperbolic paraboloidal) shell-structured concrete with an exposed concrete finish inside. 
"Concrete" is the face of the city
Co-op Olympia: designed and constructed by Shimizu Corporation. Named after the 1964 Olympic games.
This is Japan's first luxury apartment called "Oku-Shon," which literally means a million-dollar apartment.  There are studio-type units and apartment units for families.      
The same constructor who designed and constructed Yoyogi 1st Gymnasium was in charge of this apartment.
Luxury apartments such as Co-op Olympia and Harajuku Central Apartment have been the face of Omotesando, attracting fashionistas as well as high earning people.  Harajuku Central Apartment was dismantled and converted into a shopping facility and the apartment named "With Harajuku" in 2020, yet Co-op Olympia still remains as it used to be.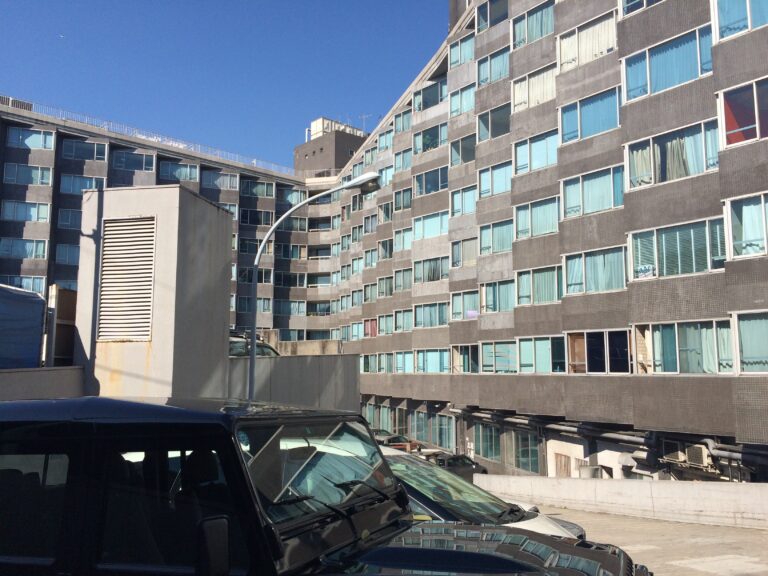 "Concrete" designed by a fighter
Omotesando Hills was designed by Tadao Ando known as "a fighting architect" from his former carrier as a boxer and his strict working style. 
This is a beautifully finished exposed concrete building, which is synonymous with Ando's work.  This building was built on the site of the legendary Dojunkai Apartment.  It is conceivable to think that concrete has been recognized as a finishing material rather than just a structure material through Ando's works.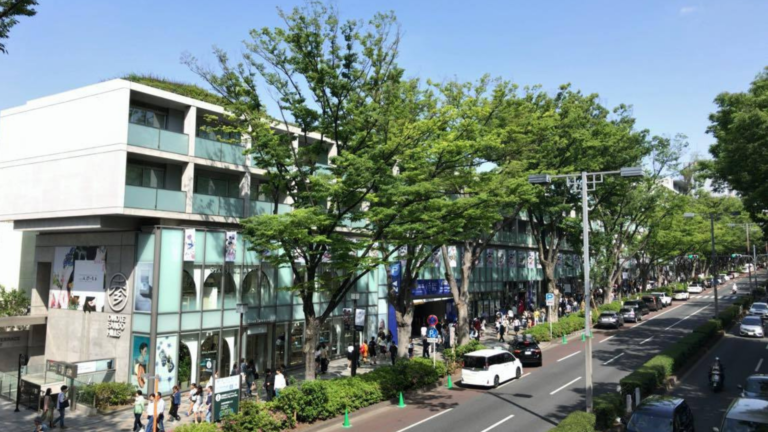 When I look at the exposed concrete surface, I always check the smoothness and the layout of the round marks by the formwork connecting rods which we call "pi-cone" ;abbreviation of "plastic cone" on the concrete surface. 
A typical formwork has 6 "pi-cone" s on a panel of  900 mm x 1800 mm, the same size of a tatami mat.  The perfect layout of them makes a surface look beautiful.
When designing exposed concrete buildings, the layout of formworks is crucial.  On the façade of the Row House in Sumiyoshi, one of Ando's famous works from the early stage of his career, 60 "pi-cone" s (I counted.) are symmetrical and beautifully arranged.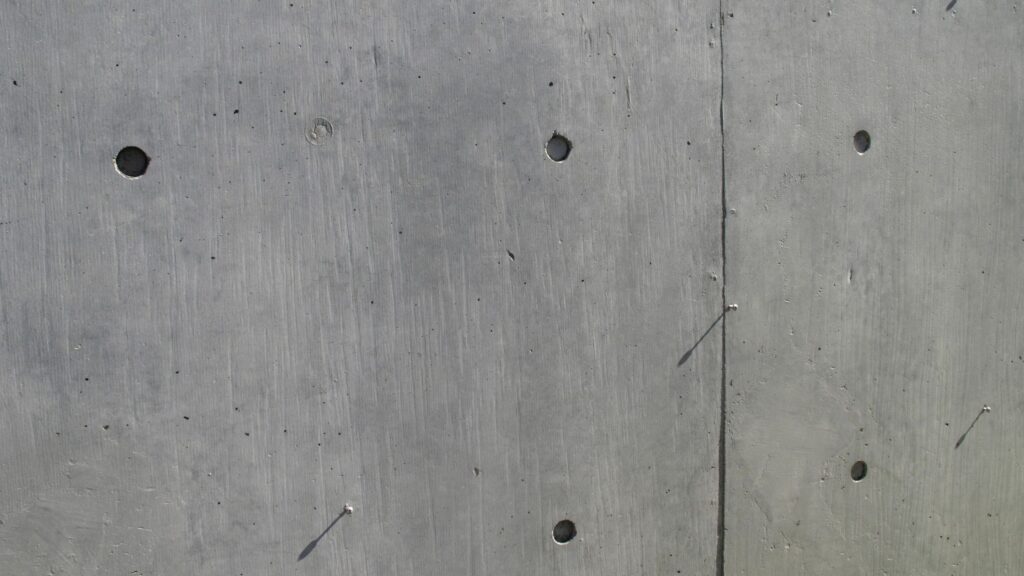 What makes it possible to make such a beautiful concrete surface?  
Thin wooden boards were used in the early days and gradually changed to plywood.  Recently plywood with a painted smooth surface is used for a smoother finish.  
Other than that, we need well-skilled formwork carpenter's work, hard-mixed type of concrete, good weather condition, sufficient moisture and lastly the strong spirit is needed.
There are many beautiful exposed concrete buildings outside of Japan as well.  Kimbell Art Museum in Fort Worth, Texas, has a beautiful vault ceiling, which I think that metal panels were used for formwork.  The museum was designed by L. Kahn, 4 years prior to Ando's Row House in Sumiyoshi built in 1976.
It is an interesting coincidence that Ando designed the museum adjacent to the Kimbell Art Museum in later years.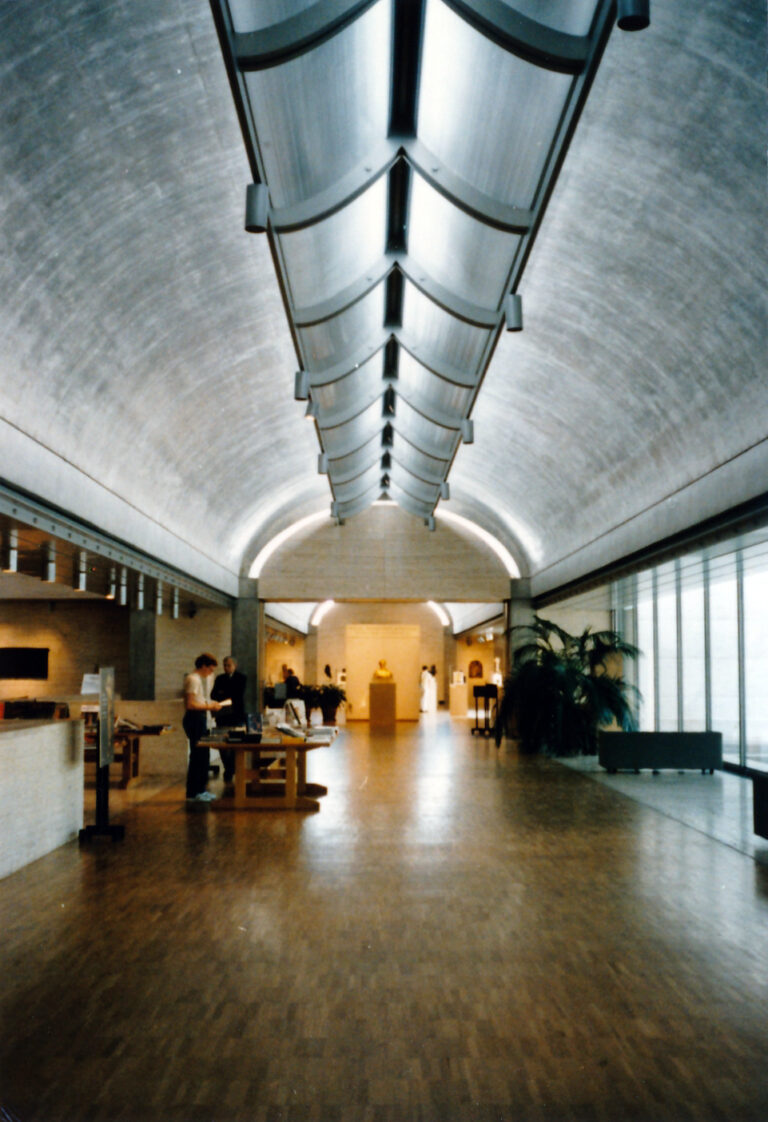 Casting exposed concrete is a one-shot game. 
What should we do when there is a mottled pattern left on the surface after taking off the formwork?
There is no choice but to repair it.  In old days, we used to overpaint the surface using  mortar (made from cement, sand, and water) to cover the pattern. Now, we can fix them by painting, like painting a picture, to make it look like real concrete. 
Exposed concrete requires careful maintenance.  Recently, water repellent is applied on the surface.  It is sad to see exposed concrete surface gets dirty in a few years term.  It is very important to be cleaned once in a while.
Rudolf Steiner's Goetheanum in Switzerland is also an exposed concrete buildings according to an architectural historian Terunobu Fujimori. Built almost 90 years ago, its concrete surface is still very clear and clean. Fujimori believes that it has to do with its clean environment.  When I visited this building, I did not realize that it was an exposed concrete building, as it was beautifully maintained and spotless.  
Polluted air in urban areas and humidity in Japan are not an ideal environment for exposed concrete buildings.
There are two more Ando architectures in Omotesando area (LA COLLEZIONE and Bank Gallery). So if you have time, please go to take a look at them as well. 
Preserve "concrete" as a legacy 
Before Omotesando Hills was built, there was legendary "Dojunkai Apartment" on this site. It was a series of low-rise concrete apartment buildings with a pleasant and sophisticated atmosphere built in 1926.  Now, there is a replica of the original building made at the end of the Omotesando Hills complex. It gives a comfortable sense of the human scale and you can feel as if you are back in time.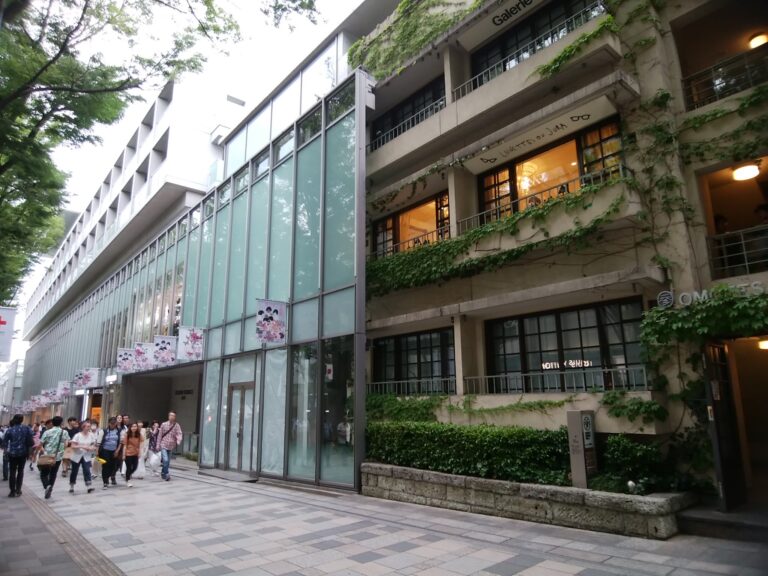 Looking at the replica, I wondered how it would be like if those apartment buildings were renovated and regenerated as "refining architecture."
"Refining architecture" is a term and concept presented by Shigeru Aoki, one of the leading architects in the field of renovation.  It is a method of regenerating and prolonging building's life without dismantling which also will bringing new life to it. It is a proposal and challenge for Japan's  "scrap and build " culture.  There are many problems to solve such as structure strength, current regulations, reinforcement methods, and etc.  Aoki has been working to overcome those problems and creating new values.  The idea sounds good for the environment and suitable for our generation.
It is exciting to imagine what kind of value it would have created if some parts of the Dojunkai Apartment were preserved and renovated as "refining architecture".
"Concrete" competes for homage
Hugo Boss designed by Norihiko Dan is an exposed concrete finish building using cedar mold concrete. It is standing adjacent to TOD'S Omotesando Building (now Kering Building): designed by Toyo Ito. 
Ito's TOD's building has a concrete façade with an abstract outline of elm trees.  Dan's Hugo Boss is a cylindrical shape building with an image of the tree trunk, and you can find the pattern of the formwork on its surface if you take a closer look.  The architect must have been looking up to the higher branches of the tree.  Using the same material and concept, Ito and Dan share their homage to elm trees on the street, but at the same time, it looks as if they are competing with each other.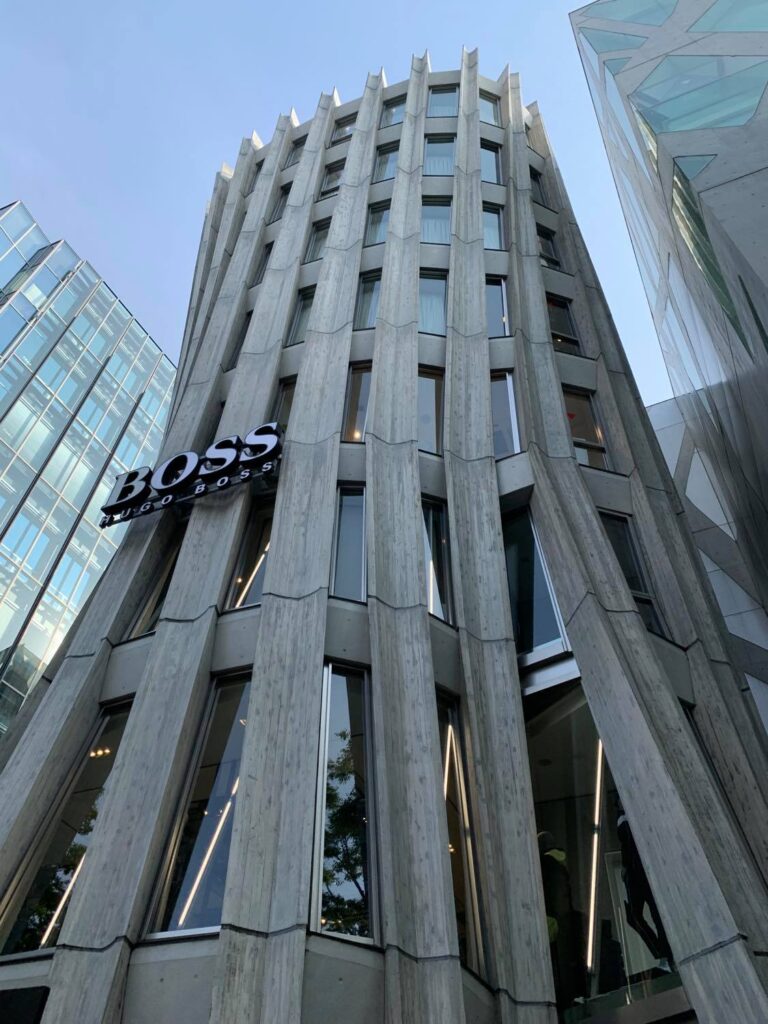 So, as usual, let's go to a side street again.
There are still a lot of interesting "concrete"…