In the previous part of this series, I introduced many attractive buildings in Omotesando focusing on "trees". 
In this part, I am going to focus on "glass".
What kind of image do you have for glass?
Transparent, flat, square, easy-to-crack, or cold?
In recent years, glass manufacturing technology, its performance, and installation method have remarkably improved. And there is a variety of inspiring glass materials for architects' sensitivity.
We are going to take a look at how glass materials are used in building design in Omotesando, the effect of glass, and sometimes look at things from the glass's viewpoint.  You will find various faces of glass. 
Let's start walking from Meiji Jingu Shrine and going down to the south in Omotesando as usual.
"Glass" is an incarnation
Let's have a quick warm-up here.
This escalator is always crowded with people looking up the kaleidoscopic ceiling and wall.
Watch your step when passing here as you can get carried away very easily! 
This building with an attractive entrance is Tokyu Plaza Omotesando Harajuku designed by Hiroshi Nakamura.   
Don't forget to turn around after you got off the first escalator, this probably is the most impressive photo spot in Omotesando.
Nakamura designs a wide variety of buildings using different materials and images; a tranquil space using wooden material or a spiral shape building.  Recently, he has done a renovation project of "Kasui-En," a Sukiya-style traditional Japanese building, originally designed by Togo Murano.  This escalator may be an incarnation of the kaleidoscopic image of Nakamura's versatile talent.
"Glass" creates an iceburg
This eye-catching building is the Iceberg, a former Audi showroom, designed by cdi Aoyama Studio.
The name tells the image of this building. There are almost no horizontal and vertical lines and it is thoroughly diagonal. I'm very impressed that they made this possible. 
It looks like glasses are creating an iceberg. 
It should be difficult to design this building, but constructing it must be much more difficult, I presume.  A technology called DPG (Dot Point Glazing), supporting glass with points, enables to form exterior glass façade without frame for very smart looking buildings.  So the DPG is widely used by many architects.  
A famous example of using this technology is the upside-down glass pyramid in the lobby of the Louvre Museum in Paris.
The DPG was developed by Peter Rice, an engineer of the British engineering firm Arup, for the large glass surface of the Museum of Science and Industry in La Defense, France.
It can be said that it is a technology that supports the iceberg under the surface of the water.
(By the way, I.M.Pei, the architect of the Louvre pyramid had the experience of designing glass pyramid top-lights already in the National Gallery East Building project in Washington DC. )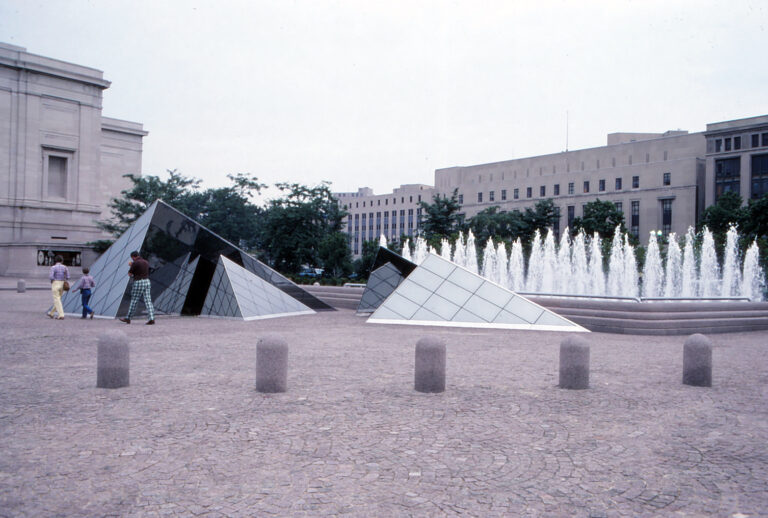 I was very impressed to find that almost all the part of the Iceberg is made with glass; the eaves, entrance, and the floor in front of the entrance door.
The elevator shaft is the only vertical part.  They did not use an incline elevator for this building.
I heard that the original plan of Beijing's CCTV building, by Koolhaas, was to install incline EVs but did not happen and vertical ones were installed in the end.
We have incline EVs in Japan, and they are more like cable cars.  I have never seen any incline EV which moves at the same speed as a vertical one.
There is a spiral shape building called the Art Tower Mito in Mito City. This one also has a vertical EV.
The Gateway arch designed by Saarinen in St. Louis, US has arched EVs. When I was a student, I tried this EV and went up to the top of the arch, but it was more like a Ferris wheel rather than an EV.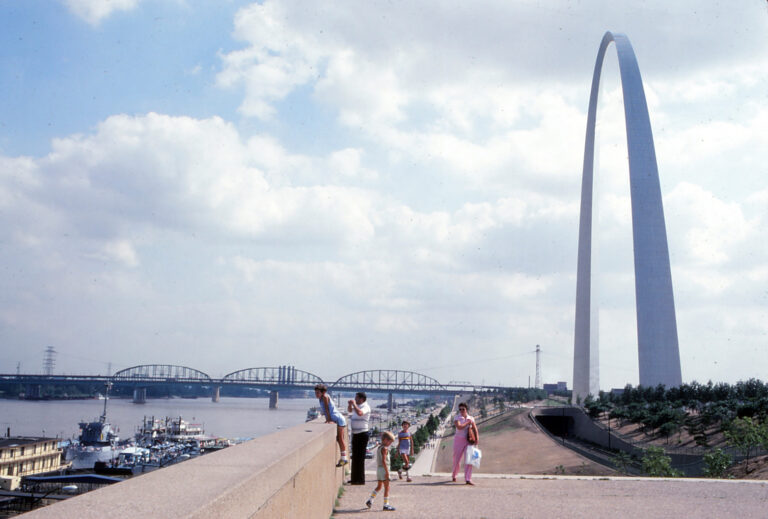 Speaking of Saarinen, it is a small piece, but a chapel in MIT, Boston has a very impressive space with metal pieces shining in the light from the top of the altar.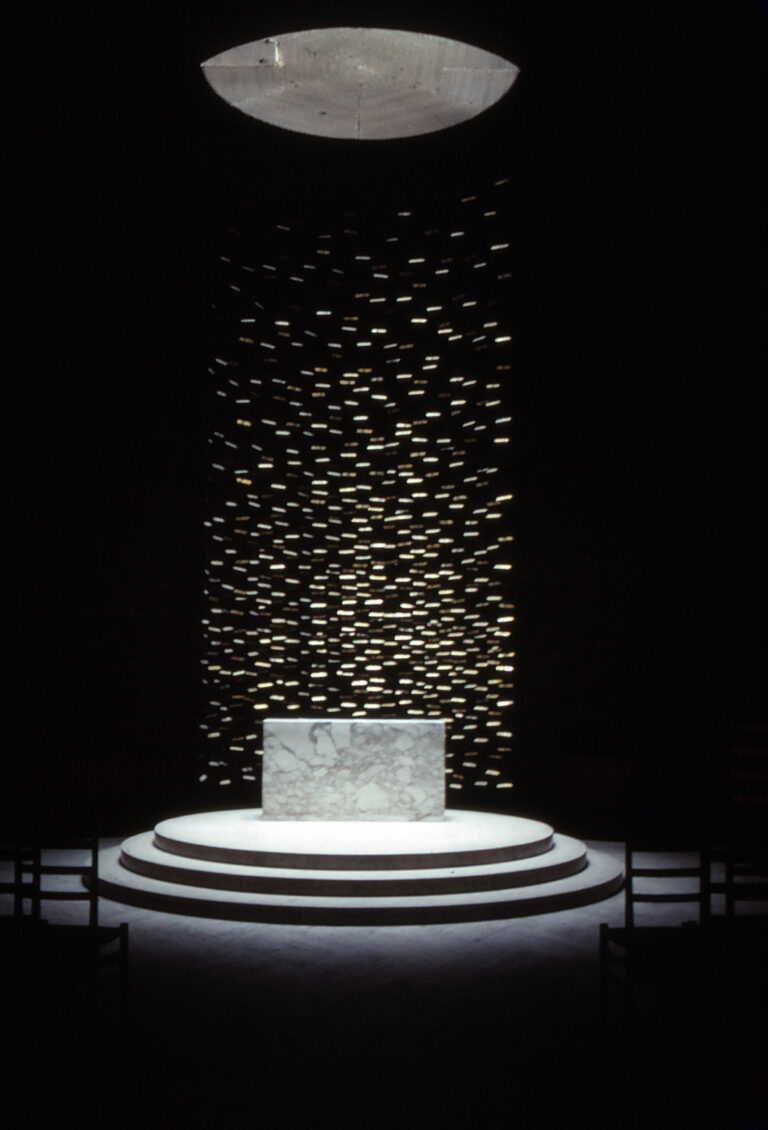 Comparing with the Iceberg, the building on its left can be an ice cube made by a machine.
And if you want to see the full view of the Iceberg, I recommend you to look from the other side of the road.
There is a small hatogu shop there.  You will be surprised to see the size and shape of the land space . This shop is as cool as the Iceberg.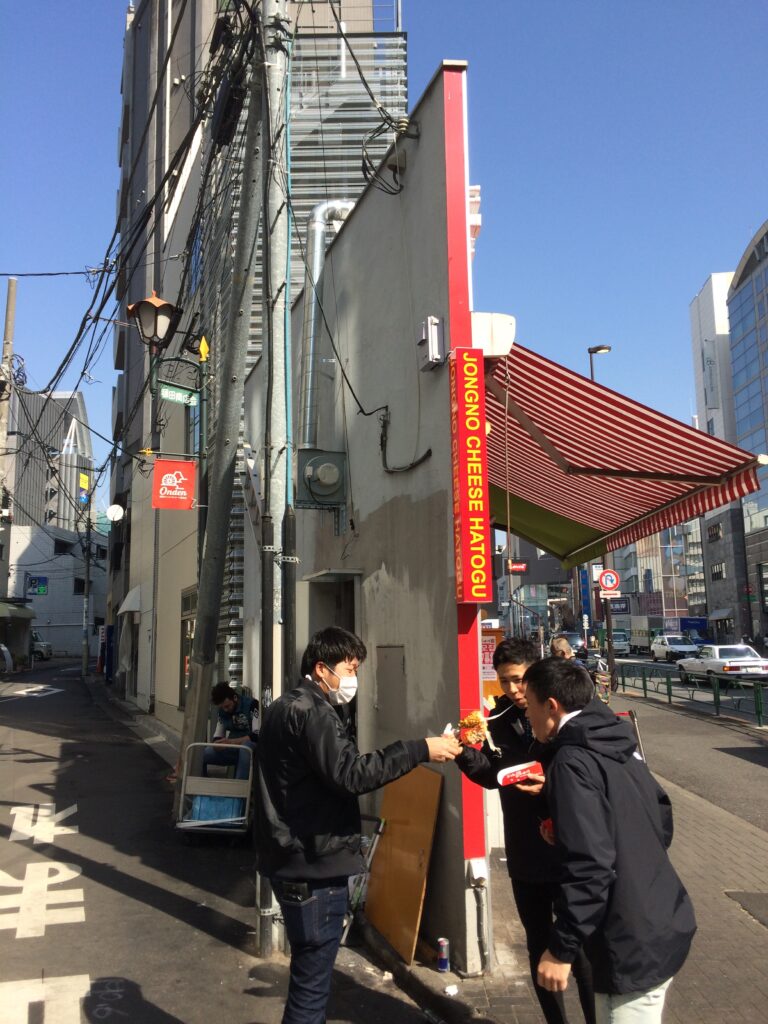 "Glass" reflects the owner's personality
If you go along a side street from the Iceberg, you will come across a building stacked with cubes. 
This is the Jingumae Building, known as Block House, designed by Chuo Archi.
Inside the building, the ceiling is clear glass, and you can see the bottom of the upper box through it.  The surface of the bottom is finished with a stainless steel mirror surface. The thoughts of the owner and the architect are expressed straight. 
When some of our members came across the owner of this building, he was kind enough to show them inside and outside of the building.  From this episode, I imagine he is kind and straightforward person just like this glass ceiling,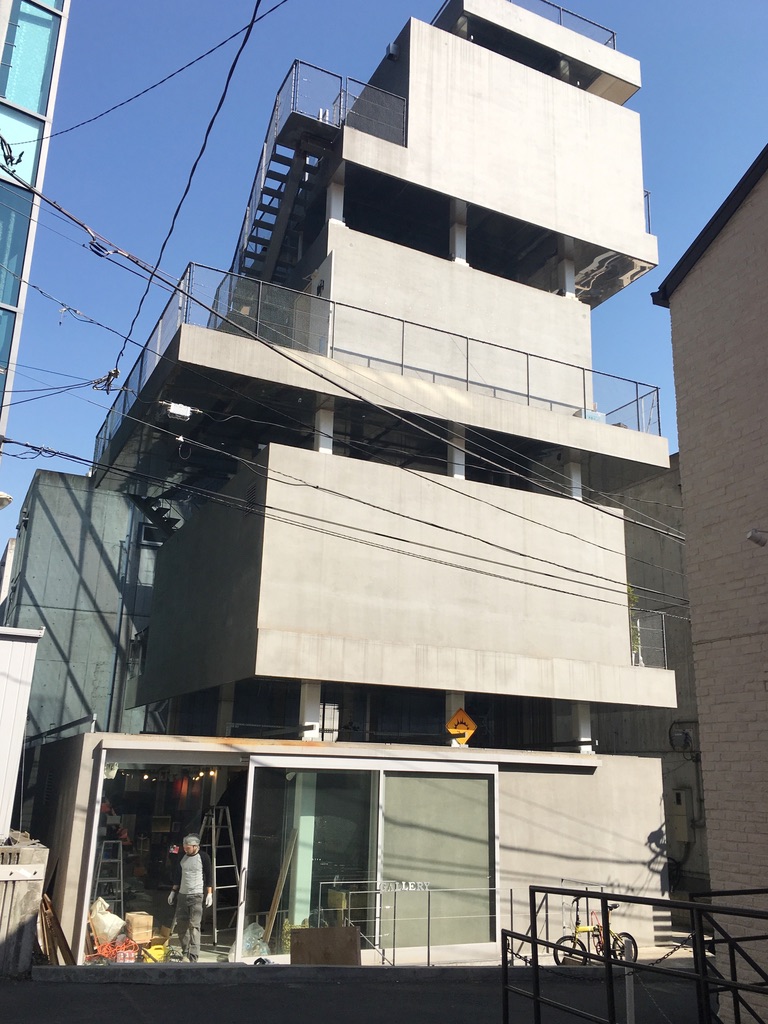 The Postal Savings Bureau building in Vienna, designed by Otto Wagner comes to my mind when thinking of the glass ceiling.  The building has a glass ceiling, and the space was full of soft light shining through the ceiling and I wanted to stay forever. I really had a  good time.
"Glass" sways with the wind
Dior Omotesando designed by SANAA.
It looks like an 8-story building with a simple square box, but it is a 4-story building. There is a mechanical floor every further, and the height of each floor is irregular. 
There are acrylic screens set inside the glass exterior. 
This is a really gentle atmosphere like the wind.  A pleasant wind blows around.
It creates soft impressions as if the gentle wind sway between the curtains.
This building looks different at night when lit up.  You will see the Dior star shining down from the top of the building.
GYRE, designed by MVRDV & Takenaka Corporation, stands right next to the Dior Omotesando.  These two buildings make a great contrast in color, material, and form.
This building was created by twisting square boxes on each floor and cutting corners. There is various way of stacking boxes for designing buildings, twisting boxes is one style and stacking boxes vertically is also another style. 
A new restaurant, designed by Tsuyoshi Tane, opened on the upper floor of this building. 
It is a nice place to take a break and have a cup of coffee.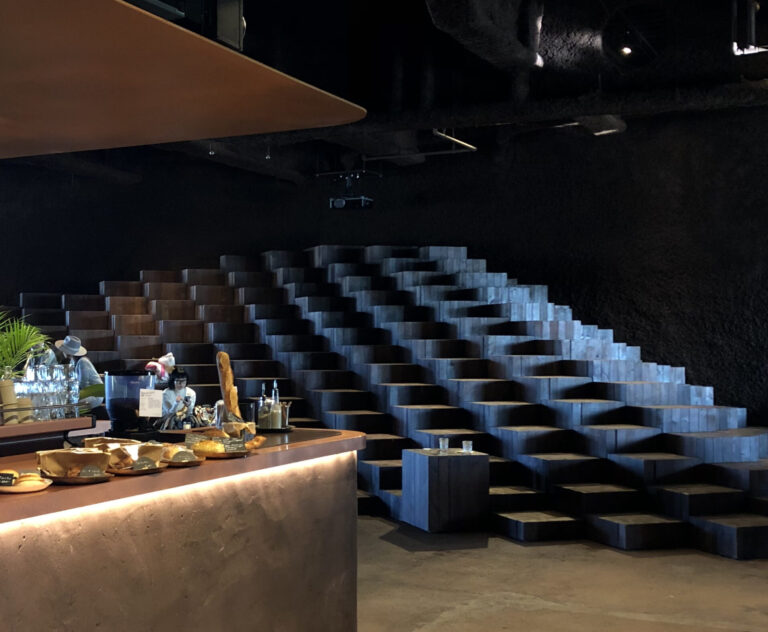 By the way, there used to be Hanae Mori building in Omotesando.
The building, designed by Kenzo Tange, had glass curtain walls.  On this site, the new building has some conceptual space with stone and metal objects.  This is a tranquil spot away from the hustle and bustle, and one of my favorite places.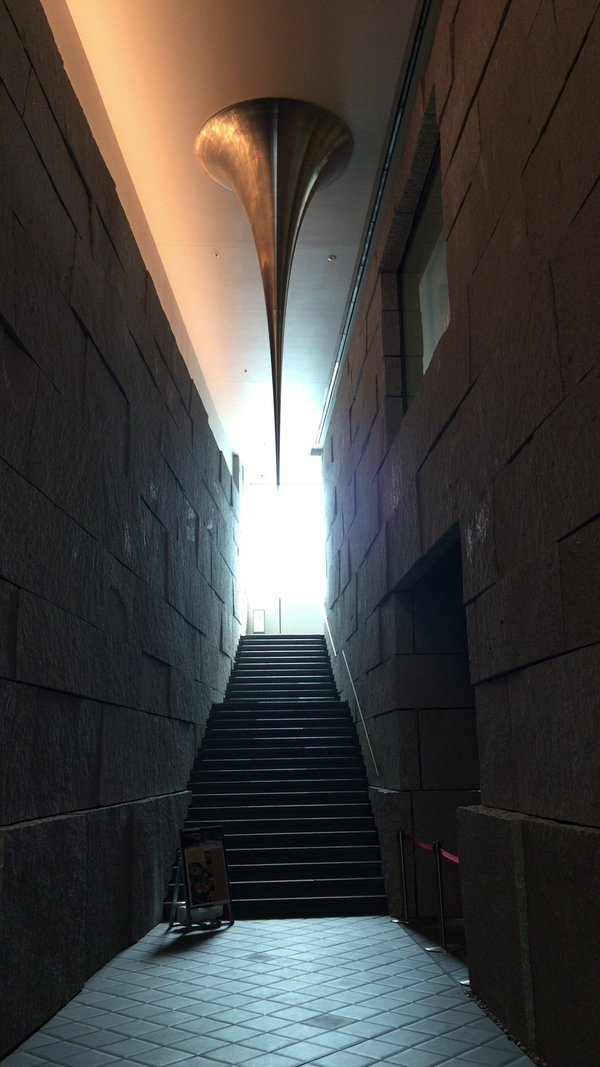 ~~~~~~~~~~~~~~~~~~~~~~~~~~~~~~~~
Let's start walking again.
"Glass" supports the glass
Apple store Omotesando designed by Jun Mitsui. 
A sophisticated and high-quality design just like their products.
The glass façade has no frames.
The vertical parts that support the glass window called "Hodate" (mullion)  are also made of glass, which means the glass supports the glass.  
This construction method is called the stabilizer method using a strong glass and that is widely adopted.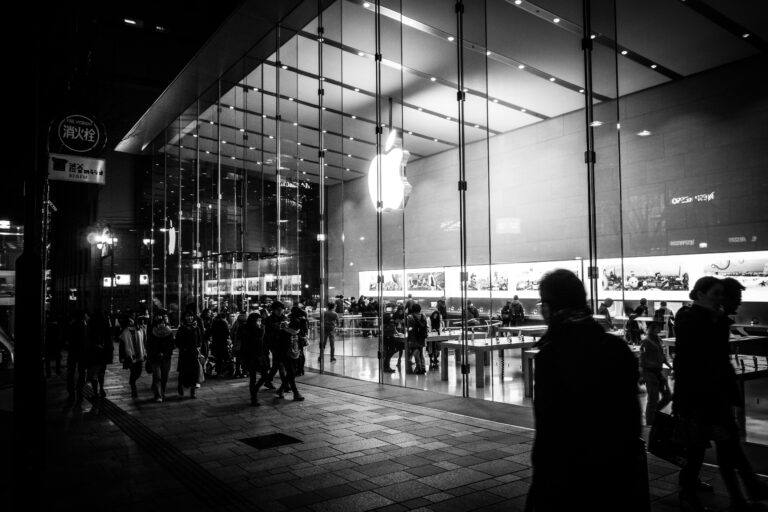 The spiral staircase in the building has no posts and looks simple and smart.
As for the Steve Jobs Theater in Apple Headquarters, designed by Norman Foster, there are no pillars around the circular building.
There is another glass-only structure in Tokyo; the subway entrance at the Tokyo Forum in Yurakucho.  Please look for it when you visit there.  In addition, the pavement surface where you enter the courtyard of the Tokyo Forum is also glass and it lights up at night. 
"Glass" refreshes like a stream
This is a fountain at the Omotesando Hills designed by Tadao Ando. 
The sound of water stream from the fountain is so refreshing for passersby. And the flow of the stream reminds you that Omotesando street is a gentle sloop. A nostalgic memory of the Onden River painted in Ukiyo-e woodblock printing is now covered.
Thank you Mr.Ando for a wonderful gift.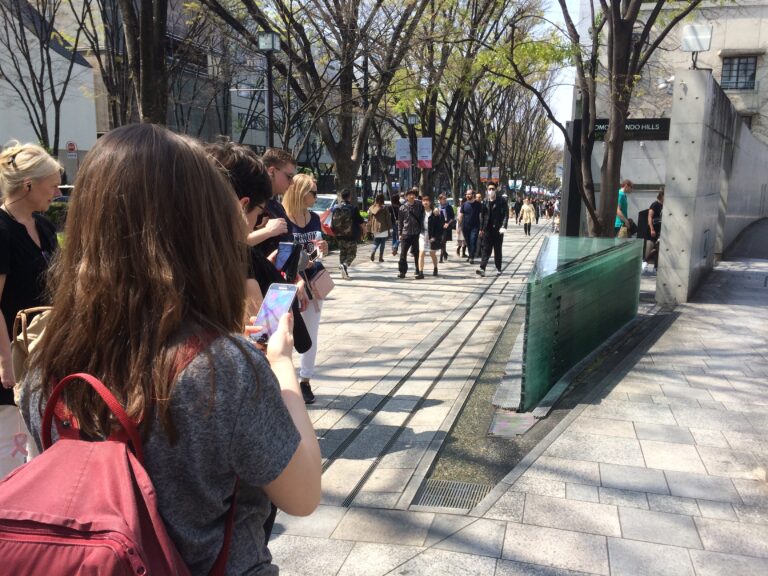 Water in a city area is very refreshing and valuable.
The small waterfall in Paley Park in New York, introduced last time, is a good example.
There is an interesting fountain in New Orleans.  It's called Plaza de Italy designed by Charles Moore.  They have a fountain in the shape of Italy along with a fountain creating water pillars of the classical architectural motif.
Here, let's take a break while touching the water of the fountain.
So let's go to Miyuki street. Our walk is coming to the end.
"Glass" attracts like a crystal
This is Prada Aoyama designed by Herzog&de Meuron & Takenaka Corporation. You can see this bright blue shining building even from the Shibuya Scramble Square's rooftop observation deck.
This building has made Miyuki Street a "Mecca" for architecture lovers.
I've always thought that the glass was crystallized however have found out that it usually isn't (meaning that the glass can crack by rapid heating or freezing). It fascinates me that if the glass particles were to be arranged regularly, it may look like this Prada building.  
The exterior wall is designed with diagonal lattice, and the glass panels are flat, convex, or concave.  That gives a somewhat organic and warm impression to the building.
The lattice structure is weak to vertical forces, as you can imagine the structure of the pantograph of a train.  And the size of the steel frame is only 150mmx250mm.  The seismic isolation devices are used in this building make this design possible.
Takenaka Corporation is also credited with Herzog&de Meuron as a joint architect. Takenaka is an expert for a wide area of capabilities, such as responding to Japanese building codes and regulations and proposing construction methods. We often see these "Foreign Architects+Japanese design firms" or contractors combinations. Takenaka also participated in designing GYRE with MVRDV. 
I believe that Japanese organizational design firms or general contractors are highly acclaimed.
On each side of the intersection where Prada stands, there are buildings with different materials; the Jewels of Aoyama, designed by Jun Mitsui,  made of glass and stone, Noh Training Institute "Tessenkai" building with grain pattern concrete wall, and MiuMiu Aoyama Store with metal panels designed by Herzog & de Meuron. The building materials are out in force!
Since each architecture's impression change every minute by the light condition, I do not get tired of watching them all day long. I want to name this spot "Intersection of Higurashi (sunset)"; as you won't get tired of watching them until the sun goes down.
Well, thank you very much for walking around with me.
It is exciting to imagine that the combination of glass manufacturing technology and architects' imagination will expand the possibility of glass architecture.
I hope you will discover interesting buildings using glass in the other area as well.
I feel like taking a break in a cafe where they serve coffee with a glass-made vacuum coffee maker now.