As you enter an alley from so-called Cat Street, you will suddenly see trees growing from a building.
I cannot help smiling at this wicked-looking building.
It's called Omotesando Branches designed by Sou Fujimoto. 
The idea of planting trees in a building is firmly inherited in Fujimoto's recent work, a room with "trees" of  Shiroiya hotel in Maebashi.
What on earth is this with full of plants?  Café or a flower shop?
Where is the entrance?
Is it okay to enter?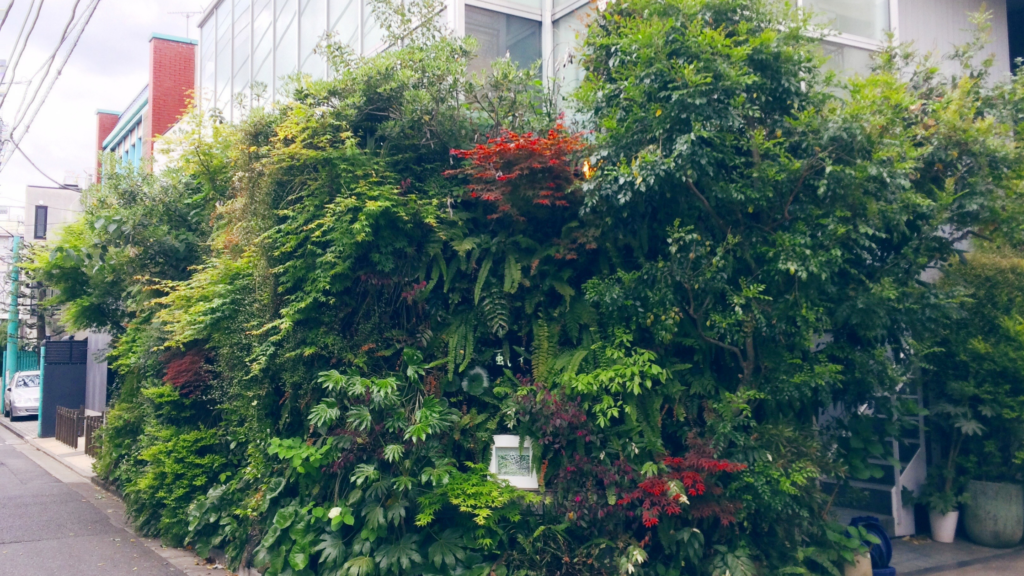 This actually is a cafe Kazahana which you can enjoy your tea surrounded by beautiful greens.
I secretly believe this building is a mini "Acros Fukuoka".
Acros Fukuoka
Acros Fukuoka is a full-fledged building that has been planted in Japan with the participation of Emilio Umbers, an Argentine landscape architect.
I'm sure Umbers will love this shop if he sees this building.
What's this huge pineapple or a bamboo basket that suddenly showed up in the backstreet?

It is a pineapple cake shop named Sunny Hills designed by Kengo Kuma.
Each wood is connected by the joints called Jigoku-gumi, literally translating " interlocking hell" because they are so sturdy that they can not be disassembled.
Amazingly, this thin wood supports the load as a structure.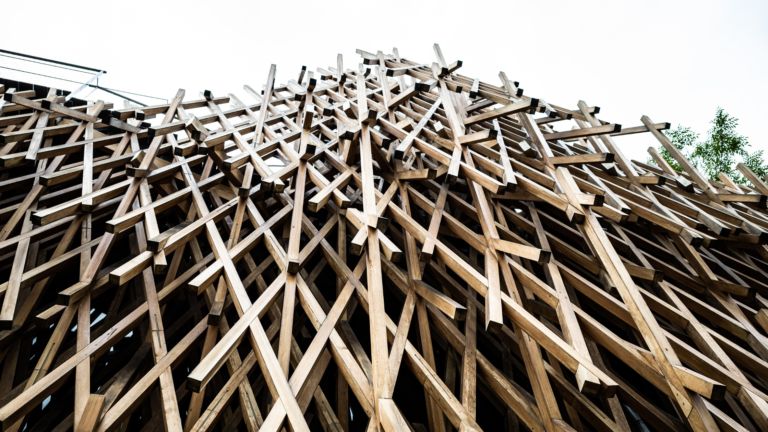 It is a complex configuration, but it is carefully combined, and from a certain direction, the line is neatly passed and you can see the regularity clearly.

Don't forget to look inside the shop.
You can see the complex but regular structures inside as well.
Let's have a pineapple cake and a cup of tea here.
Close to Sunny Hills, there is a concrete exterior wall with a clear grain pattern.
This is a Noh, one of the traditional Japanese stage art, training schools  Tessenkai.
Even though they are using exposed concrete as a finish, this building creates a very gentle atmosphere and I think the architect's intention is well presented.
We usually use cedar form boards to show these patterns and I'm imagining that the architect had a deep love towards beautifully grained cider which is used as concrete shuttering.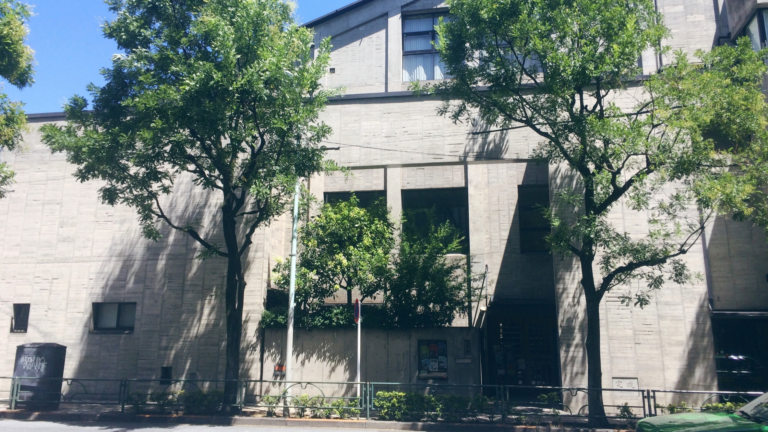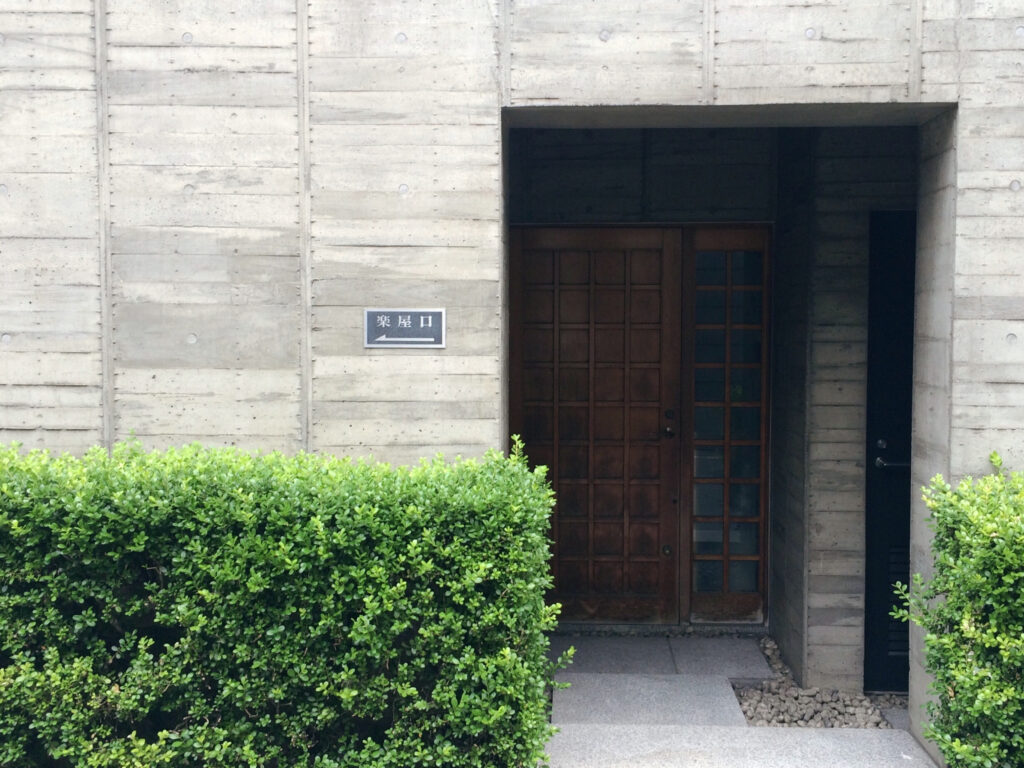 In the past, I also have experience in trying this cedar mold concrete, "Honzane" concrete finish in Japanese.
I used it for an interior wall of a library in Akita prefecture. I explained to the contractor the importance of selecting good wood for forms and they succeeded to cast good concrete which had a clear grain pattern.
Some architects even blast the surface of the cedar board in order to make clearer grain patten.
…Now let's go back to the main street, Omotesando, again.
This is a garden of  Sasya Kanetanaka designed by multi-artist Hiroshi Sugimoto.
The inspiration for the hedge surrounding the garden came from a bamboo broom.
I think that the idea of using bamboo broom was led from the idea of "Wabi-Saki; beauty within simplicity and imperfection" of the tea-ceremony room represented by the famous tea master Senno Rikyu.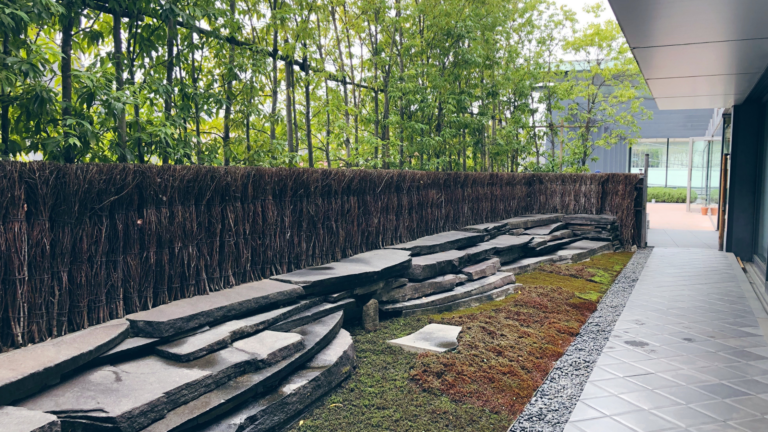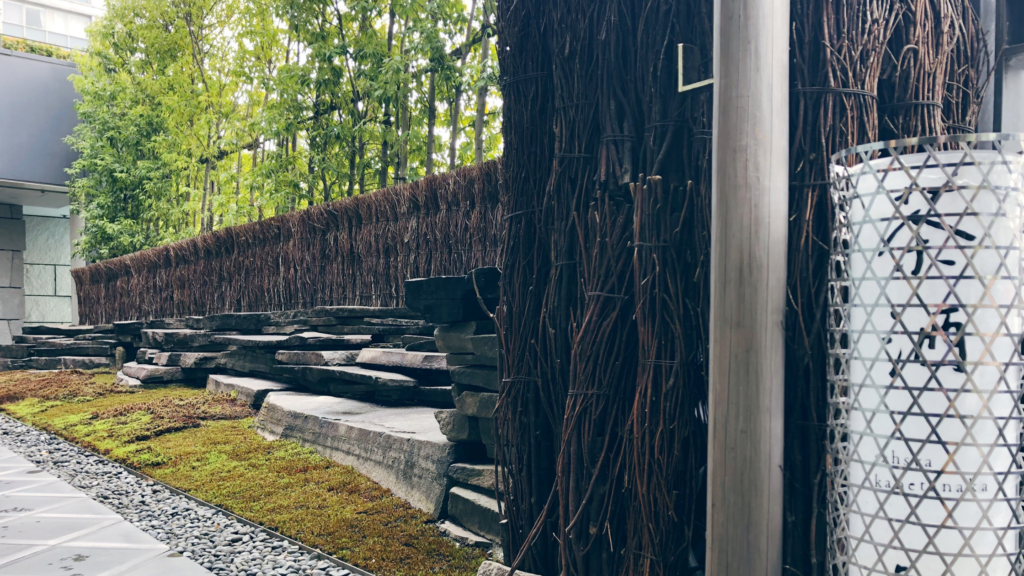 Sugimoto also used this "bamboo broom fence" in the tea-ceremony room named "Uchiwasoto" which literally means "inside is outside" designed inside the apartment room.
I'm sure this was inspired by "Inahogaki" which used rice ears for broom in "Shikunshi-en house *" built by Kinjiro Kitamura,  enthusiastic architecture -lover, in Kyoto.
In fact, Sugimoto's recent topical work "Enoura Observatory" in Odawara, 80km west of Tokyo, also designed after "Shikunshi-en house" as a model.
*Shikunshi: Orchid, bamboo, chrysanthemum, and plum tree are regarded as "4 noble plants" and often used as a motif in Oriental painting.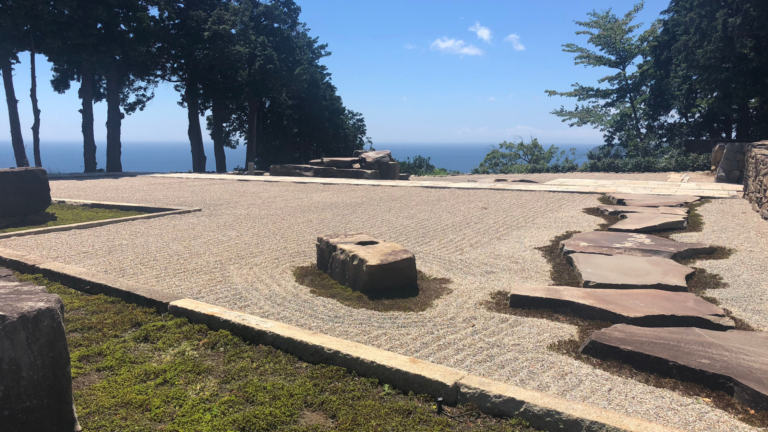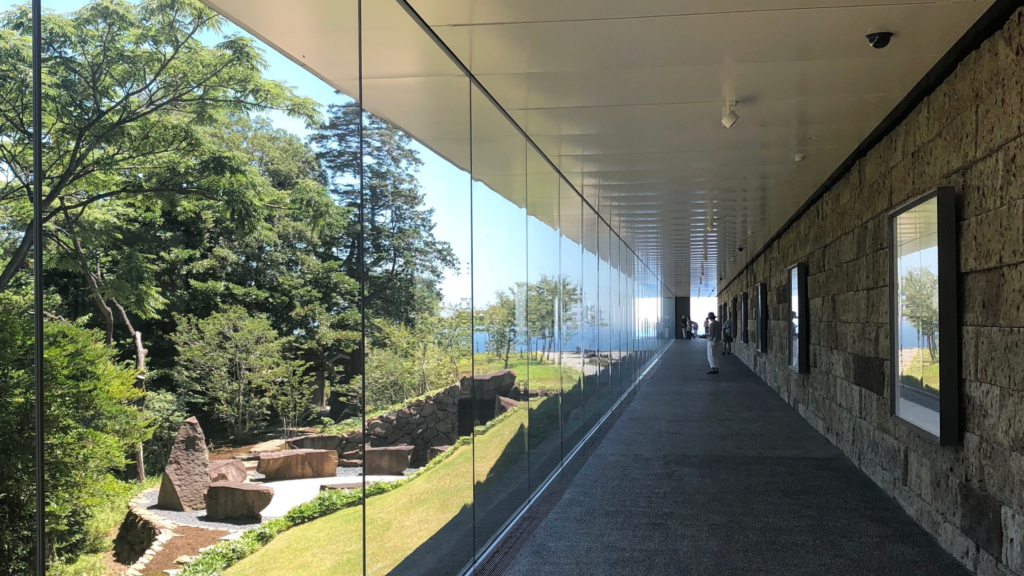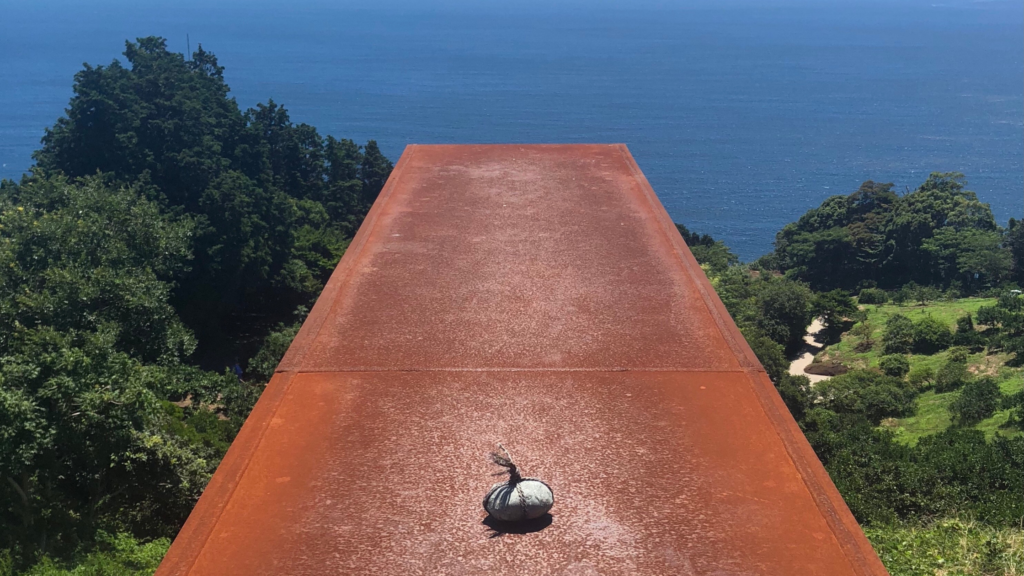 We are coming to the last part…
At the southern end of Omotesando stands the Nezu Museum, with the splendid garden as if it is making a contrast to Meiji Jingu Shrine.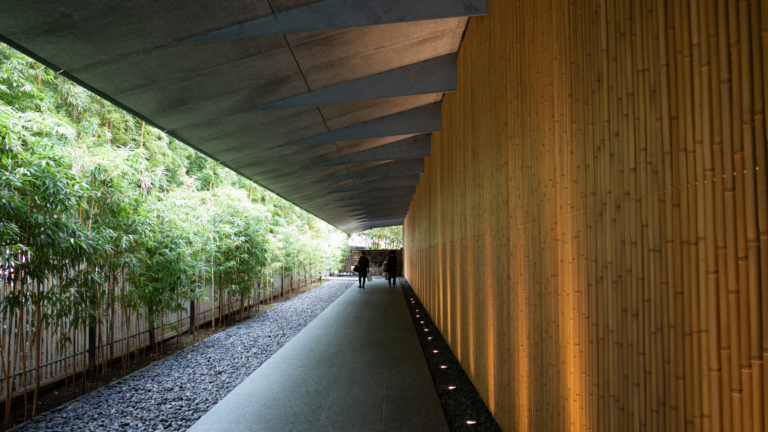 Led by bamboo trees a quiet approach under deep eaves at the entrance, makes you forget the hustle and bustle around you. There is a hedge on the right and a bamboo wall on the left.
This museum was designed by Kengo Kuma, the same architect as the Meiji Jingu Museum.
Bamboo was placed on a long approach. When you are standing here, expectations for the museum will increase at a breath. The garden is also worth seeing.
So far, I have introduced many interesting trees in this area.
I hope you enjoyed their stories.
What we have seen here is not just a "tree" as a visible tree, but also a variety of shapes, ecology, grain pattern, the shade of trees, and those invite people's actions.
I think that we naturally share actions and emotions with "trees" regardless of whether we are conscious or not.
Looking back, I noticed that the presence of traditional Japanese trees such as elm (actually zelkova), Japanese cypress, cedar, bamboo make Omotesando more attractive and comfortable.
So I would like to list elm, Japanese cypress, cedar, and bamboo as
"Omotesando Shikunshi-four wise persons" after "Shikunshi".
Next time when you visit Omotesando, why don't you walk around thinking of these "trees"? I'm sure that there will be many discoveries.
Now it's time for another cup of coffee.