Nakagin Capsule Tower ONLINE Tour
25 June, 2022 at 3 pm JST (25 June 7am BST / 24 June 11pm PDT)
Recordings are available for 5 days after the tour in case you can not make it.
The demolition of the Nakagin Capsule Tower finally began on 12 April.
On the first day, many fans and media gathered to catch a glimpse of the Capsule Tower for the last time. 
We have been monitoring the demolition works daily but the construction has been proceeding much quicker than we have imagined. It is painful to see the tower disappearing from our sight. 
When will the capsules be dismantled?
During this 26 days, scaffolding has been erected around the tower and nearly whole B tower has been covered with soundproofing panels. Construction work is so far progressing according to plan. Demolition work is scheduled to last until December this year. The capsules are expected to be removed in July or August. When the capsule is removed, the bolts holding the core and capsule together will be cut and separated from the core.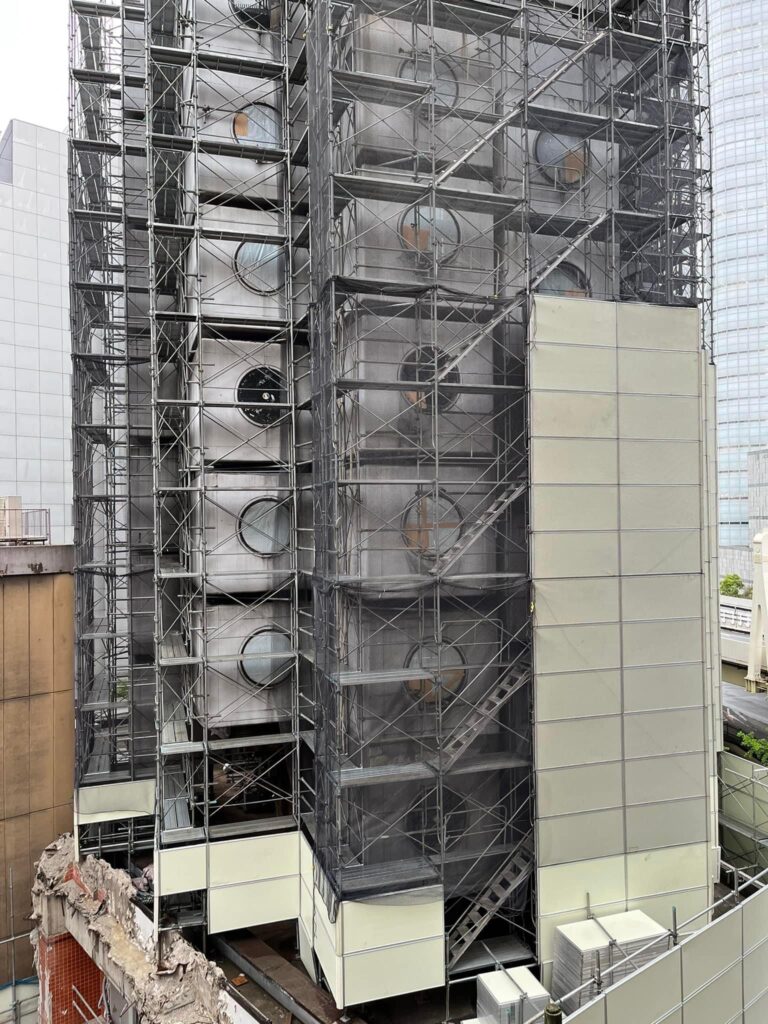 Photo by courtesy of @nakagincapsule
Where can asbestos in the capsule be removed?
Asbestos in the insulation behind the walls is one of the things that always comes up when talking about the Nakagin Capsule Tower. The asbestos is to be treated inside the capsule before the capsule is dismantled and moved, which has already been done in Tower B. All capsules in Tower A will now be started. Asbestos removal will be done after parts such as audio and shelving, walls, floors and ceilings have also been removed, so in the end only the steel frame and exterior walls will remain.
Photo by courtesy of @nakagincapsule
When and where will the capsules be donated?
We have now received more than 100 enquiries for donations, compared to around 30 at the end of last year. Most are from museums around the world, but we also receive enquiries from conservation organisations and others. Compared to overseas and domestic inquiries, there are slightly more requests from overseas. We do not know how many capsules we will be able to donate at the moment, as we do not know how many capsules we will be able to dismantle in good condition until we actually remove them.
The capsules that are dismantled will be repaired and rebuilt according to the drawings of 50 years ago under the supervision of the Kurokawa Office. The first priority is to put back usable parts and make them as close to the original as possible.
Nakagin Capsule Tower Preservation and Restoration Project owns 139 capsules, but taking into account the number of capsules and parts that can be reused, dozens of capsules will eventually be refurbished and sent out.
Capsule towers are being documented in a variety of ways. We will keep you informed when it is ready for public access.
Time-lapse recordings of dismantling footage.
The exterior of the Nakagin Capsule Tower photographed using the laser scanner
NAKAGIN CAPSULE TOWER: THE LAST RECORDS  published on 25 February. Out of a total of 140 capsules, 114 rooms were photographed inside. More than 400 photographs were taken. With the cooperation of a university research laboratory, the book is also full of measurement drawings of the inside of the capsules. 
https://www.amazon.co.jp/dp/4794225598/

Recent articles on foreign medias
Nakagin Capsule Tower related tour