Nakagin Capsule Tower Green Metamorphoses Project
Nakagin Capsule Tower has so many ardent fans all over the world, who strongly hope this building to be preserved.
Even though international tourism has stopped due to the Covid-19 pandemic and there are almost no foreign visitors in Tokyo, frequent coverage by domestic media or the popularity of visitor tour in the Japanese language shows the degree of interest in this issue is even increasing.
 

But unfortunately, CTB, a real estate company, has acquired 80% of the voting rights, which makes it possible to demolish this building if the company wishes to do so.

 
As they have not yet made any official announcements regarding this issue, we are so anxious about the fate of this building and how much longer we can conduct our visitor tour.
Demolition of the former Dentsu Building by Kenzo Tange, which had a relative-like relationship to Nakagin Capsule Tower had started last month.
I have been wondering if there is any way to preserve this building as it was planned as a Metabolism architecture.
Then, I came across an interesting proposal by an architecture student in Tokyo, which is her Diploma Project called "Green Metamorphose of Nakagin Capsule Tower."   
I was lucky to interview her about this exciting project and excited to share her wonderful idea with you.
(Please note that this is only a research project by a student, nothing to be implemented.)    
Graduated from Kogakuin University in Tokyo this March.
Majored in Architecture, Department of Urban Design and Planning, studied environmental sustainability in the design of buildings, landscapes, and communities.
She has a strong interest in environmental problems and the research theme was
  "The effect of the Green facade in the Urban area to human and biodiversity allocation, Adapting Green facade in the metabolism theory. "
She came up with an idea of sustainability and natural metabolism spending her senior year at University in the age of the Coronavirus pandemic.
"I was researching the way to secure biodiversity in the urban area.
Unlike the suburbs, I found that it would be effective to "green" the buildings because there isn't much space in the city center. Although, greening the building is just one of the ideas. In order to conserve biodiversity, many ideas must be incorporated."
she says.


Greening as a precondition of the preservation.
There was a reason why I got so excited when I saw learning about Koura san's idea.
Here are the photos that I show during the tour and always get big positive reactions from our guests. 
@Nakagin Capsule Tower Preservation and Restoration Project 
I show this as an example of the abandoned / not-in-use capsule room. Inside the units not in use for a long time, plants have gradually grown.
This room is now all cleaned up and fixed so that people can use, but many of the guests think it would be a great idea to have one or two "green house capsule room" out of all 140 capsule rooms.
After getting these reactions, I had always been thinking if there are any possibility that the capsules of the Nakagin Capsule Tower to be restored, it may be a good idea to have some greens in the communal space not only as a decoration but as something which offers soothing or relaxation in their busy life.
In my tour, I always discuss how we can preserve Nakagin Capsule Tower with our guests, such as thinking about what kind of business would fit this type of small size rooms and how can we make it profitable in Ginza.

However, the idea of Koura san was basically to use the tower as a hub, or a gigantic flower pot for growing greens in the urban area which would preserve the tower in the end.
This was simply an eye-opener for me.
New usage from a different point of view.
But…there are a number of old and abandoned buildings in Tokyo. 
If what she tries to do is to transform one whole building into a flower pot, it probably does not have to be Nakagin Capsule Tower.
In fact, she did not choose Nakagin Capsule Tower to support its preservation.
She explains:

"The tower is in a great location and has an ideal form for vegetation."

She planned to secure biodiversity in the urban area.
Beautiful Japanese Garden Hamarikyu is less than a kilometer away, Tokyo bay and rush green Imperial palace are also within walking distance from the tower.
The birds and insects in the neighborhood will fly to the close greenery to carry seeds and creates the biological network.
It wouldn't be so difficult to grow native plants in this area, which do not cause environmental problems.
Birds and insects will be happy to see what they already know in the garden and the palace. Also, the irregular shape of this building is suitable for vegetation. Not just in the ground level, but the tower design will allow plants to grow vertically on the walls expanding to several floors.
"One of the concepts that lie in the Metabolism theory is the growth toward unknown future. I thought this matches well with the current pandemic situation in Japan and environmental issues."
Based on the Metabolism theory, she is thinking of updating the capsule to the green capsule with several usages. Along with that, greening the surrounding site would be conducted.
Now, let's take a look at the new feature of the capsule tower.
In Addition to the current residential capsule and office capsule, hotel, cafe and parking area for the expressway nearby have been added as a place where drivers can take a break.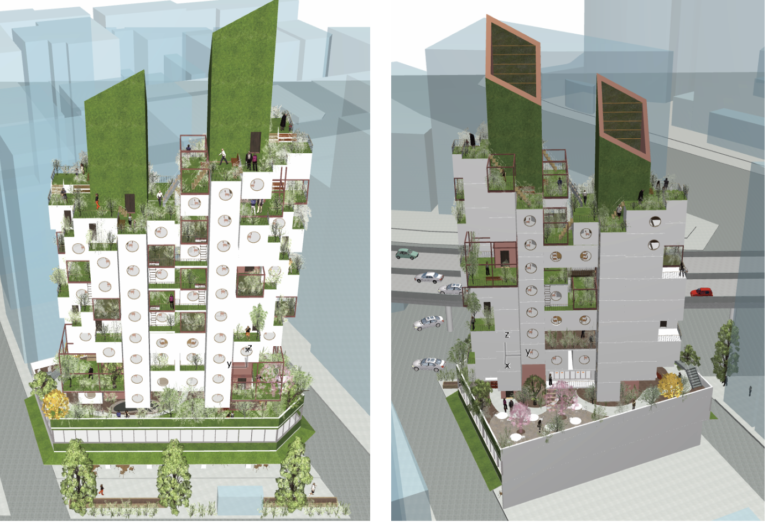 Residence and hotel capsule
The great news is that you are now able to open the window to enjoy the fresh air!
You could enjoy your private garden as well.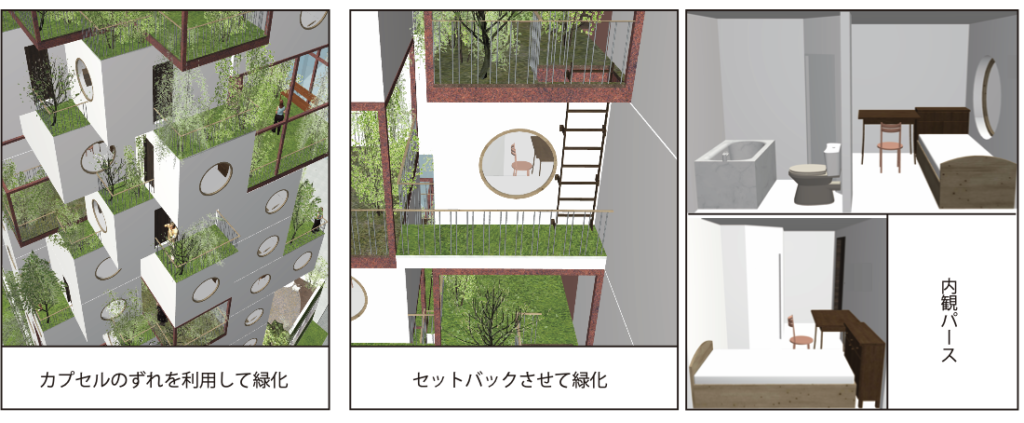 As for an office capsule, there are two sizes.
In addition to the original size, there is a bigger size office capsule using two units combined.
You could walk directly outside in the garden as well.
Restaurant / cafe capsule

The restaurant also plays a role as a communal space. Not only the people using the tower but wishing to have many people use Nakagin Capsule Tower. 
As it's open to the public, it may help to create a new community for residents and supporters who wish to preserve the tower.
There will be a space for kids to play and gardening space for the restaurant and residents are available.
We can even start beekeeping as Nakagin Capsule Tower honey project! 
Sounds fun!
On the rooftop garden, two towers are connected to each other and allow you to walk around freely. Small garden capsules (non-private) are connected vertically with ladders, and it would lead you up to the rooftop in the end.
Imagine how fun it would be to have a beer here!


The renovation plan is mostly the changes in the facade. Some of the capsule sizes have been changed, so you may want to know whether the iconic interior design will be succeeded or not.

Koura san explains:
"I would like to highlight the flexibility.
The current residents are enjoying their capsule life by renovating the room. Owners can update their capsule rooms depending on their lifestyles and adjusting to a new environment.
However, it would be sad to see the original design disappears completely, so the small office capsule which could also be used as a hotel room will inherit the original design. "
It was also interesting to see that she predicts that the residential capsules will diminish in number while the garden capsules will increase, in accordance with the population decline in the future. 
"Coronavirus pandemic had changed my way of thinking and how people work. Therefore, we have set up individual capsule offices for remote meetings and joint capsule offices that people from the same company can use for meetings. You can change the usage according to the way you work. 
I also want to make good use of the Metropolitan Expressway nearby. Remote workers can go directly on a trip after work or drivers can use the individual small capsule offices a hotel room after quick work."


In Japan, working remotely still isn't too common looking at the number as a whole.
There are many industries and office cultures where the majority of employees are expected to be in their workplace, and remote working is not progressing as expected even during the stay-home order. 
According to a survey, since the beginning of this year, only about 25% of the companies accepted working from home.
On the other hand, the need for office buildings for large corporations has decreased because they are swiftly adopting remote working.
The work style is gradually changing in Japan for sure.
How would you water the plants?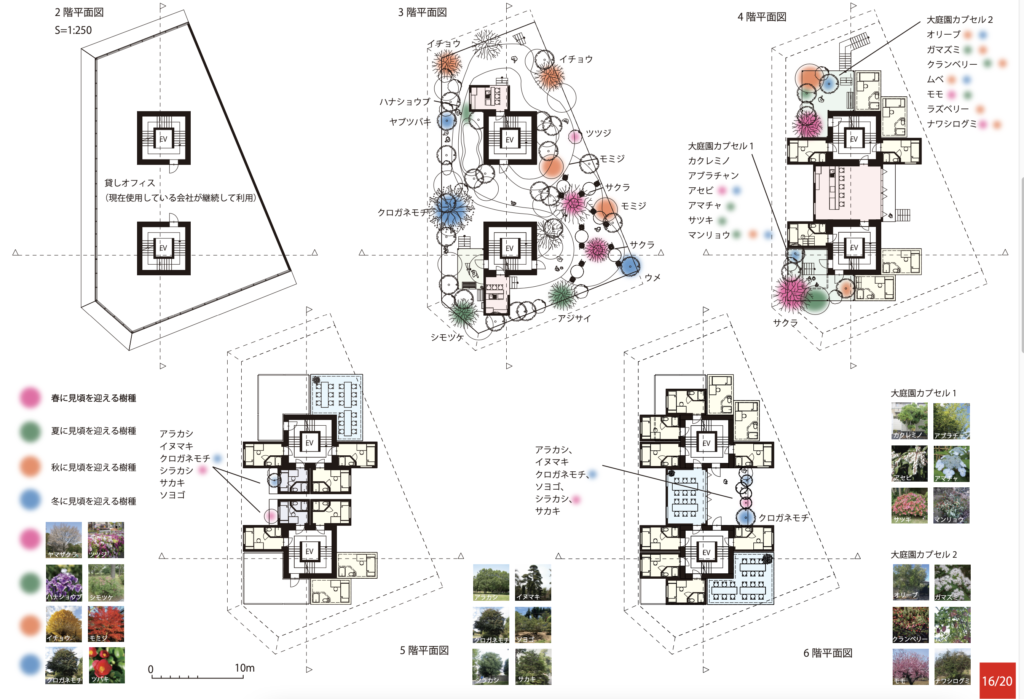 The idea of having birds and insects itself is very exciting, but as a person who knows the current state of serious leaks in the capsule room, I am curious to know if there could be a problem with leaks due to the irrigation.

According to Koura san, she had solved that problem by choosing the right types of trees rather than adding functionality to the capsules.
She was very particular about how and what to plants. By planting the same species as the ones found in the Imperial Palace and Hamarikyu Garden makes it easier for birds to fly between those places.
On the higher level, the plan is to grow wind-resistant vines and mosses. She also plans to plant trees and flowers that are in full bloom in each season so that people can enjoy the vegetation throughout the year.
From the rooftop greening and preliminary research, it is said that the height of the tree is expected to grow up to about 4 m. An automatic irrigation system will be used in the area out of reach of humans.
Careful maintenance of Hamarikyu Gardens and methods of controlling alien species can be helpful for growing the plants in the tower. If the soil environment is in good shape and the initial forestry plan is solid like Meiji Jingu, a big forest tower may be realized in a few decades even on the artificial land.
As many of you may already know, each unit of Nakagin Capsule Tower was designed to be removable and replaceable.
Architect Kurokawa envisioned an organic, nomadic way of life in which seeds would be scattered from the trunk, tower core in this case.
The capsule as a seed would grow in a new land and start a new life leaving the original habitat in Ginza.
This idea wasn't specifically included in this proposal, but it's still fun to think that the green capsule could actually be moved to increase offspring.
Koura san's thought on Nakagin Capsule Tower
"When I first saw Nakagin Capsule Tower it was too different from the surrounding buildings and I was honestly anxious.
It only had one side attached to the core… how can it be safe??
After studying architecture, I now think that it is a building that was ahead of time introducing "stock-type housing" when scrap and build were in the mainstream.
I truly wish this legacy to be preserved.
I have designed several larger-sized capsules depending on the usage. However, this unique figure in only seen in Nakagin Capsule Tower, so I carefully designed the scale and arrangement of the capsules so that the appearance would not change over.
It is an architecture in which the idea of Metabolism has emerged which need to be passed down."
says Koura san.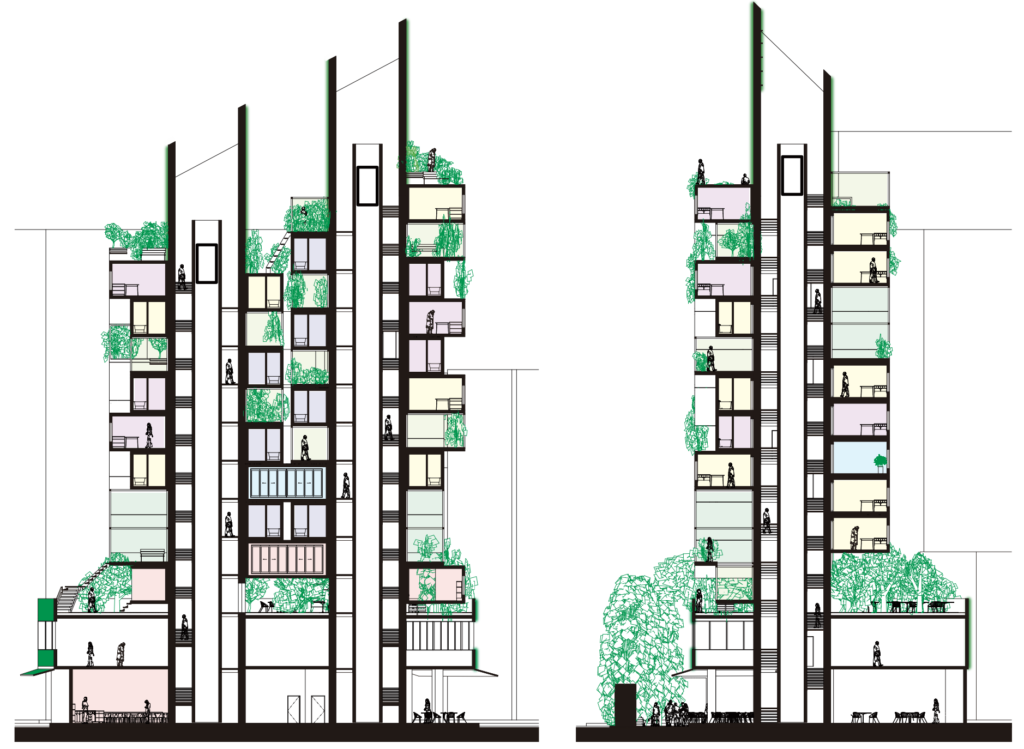 I was very impressed with her hard work and very honored to have a chance to hear from her. It was very interesting to see how the young generation cares about the future of Tokyo.
Greening of buildings is obviously becoming more common in the urban areas, and it simply was a great chance for me to think about a long-term perspective in the surrounding environment, not simply because it looks good in terms of design.
In addition, I realized that any possibilities can be expanded slightly by shifting the viewpoint. When we try to achieve something, an idea from someone in a different position may be a surprisingly good idea and effective.
It's not a good idea to deny any possibility beforehand.
Having birds or insects to nest in the tower, in this case, turns out fine if we think of a way to overcome the problem.
It's very exciting to imagine the current gray Capsule Tower will turn green.
People using the tower will develop a special attachment to enjoy the growth of the building together.

It would be great if this would bring more awareness to people about using the old building in a more considerable way.